Kinomap App for your WaterRower Rowing Machine
Kinomap Connect
Available for iOS and Adroid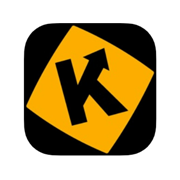 ---
Kinomap app turns your rowing machine into a powerful and fun fitness device.
Choose a video and train on the Kinomap app. Watch your icon progress on the map as you follow the video. The app will change incline or resistance on your equipment to follow each video you choose in real time. Join contestants all around the world and challenge them LIVE through multiplayer scheduled sessions or train on your own.
Kinomap is only compatible with WaterRower models that feature the S4 Performance Monitor fitted with Bluetooth ComModule.