NORHD WallBars - multi-functional
EFFORTLESSLY SIMPLE
With foldout-arm feature
ORDER ONLINE
Model Overview
Dimensions (cm)
230 x 79 x 13
A true gymnasium classic, our WallBars come in a curved silhouette to effortlessly blend into any surrounding. The top bar's foldout feature and attachable accessory equipment for strength, mobility and cardiovascular exercise are sure to make this a favorite allrounder in your gym space.
WATERROWER | NOHRD
EFFORTLESSLY VERSATILE
Ideal for bodyweight and coordination training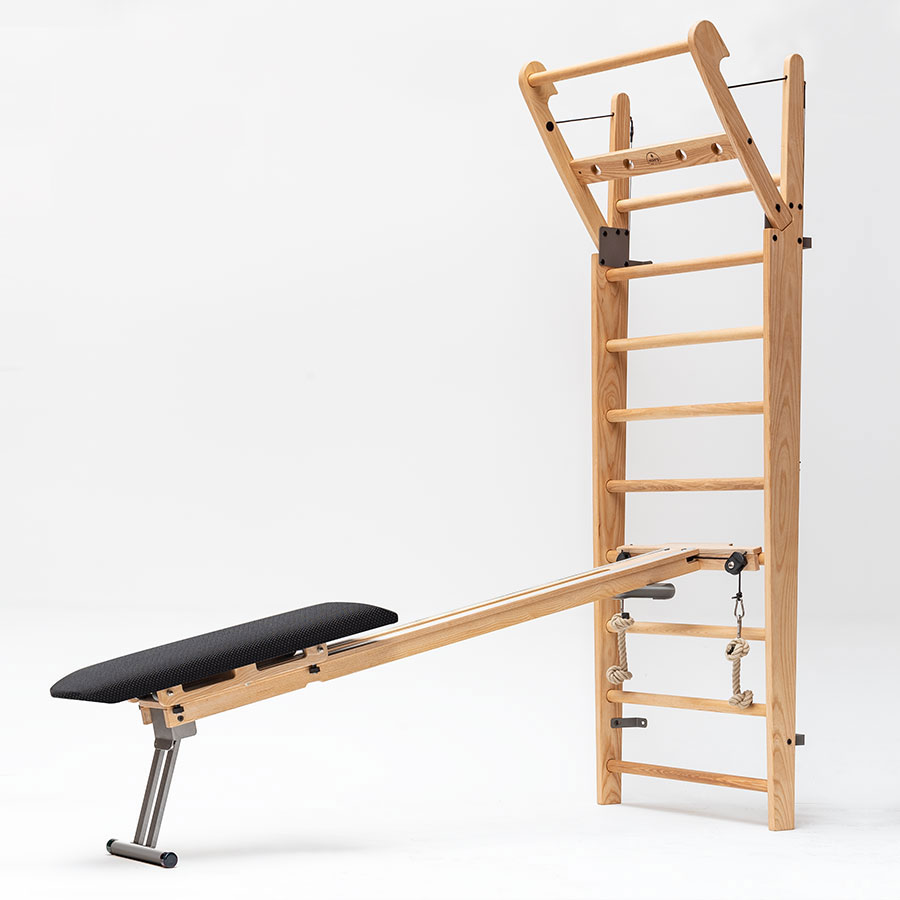 Accessorize
CLEVER ADD-ONS
The CombiTrainer is designed to upgrade your WallBars exercise by targeting strength, flexibility, and core stability – by using bodyweight resistance. A flat bench and cable pulley system combination, this unique piece can be used in sitting or prone positions and hung into different rungs to intensify your training as you improve.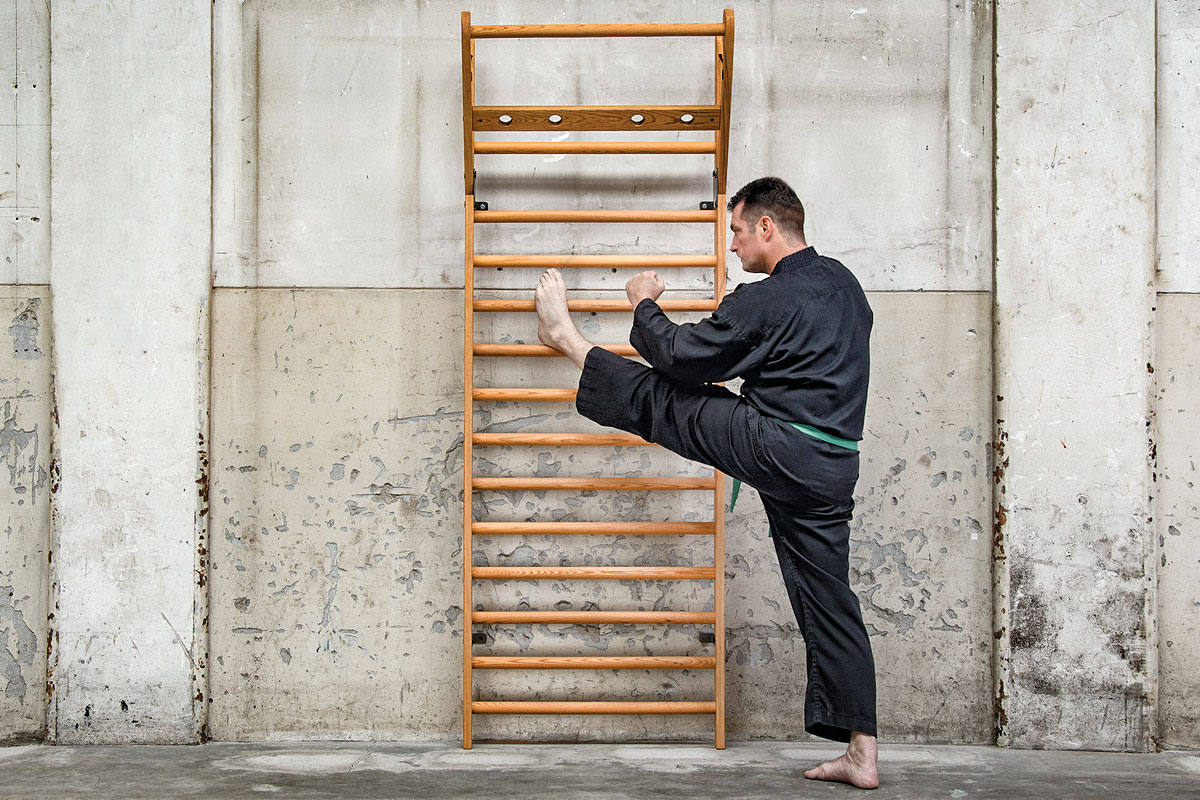 WALLBARS EXERCISE
NOHRD WallBars are designed for both the beginner and seasoned fitness enthusiast as a tool for a more dynamic, effective workout experience. Its top foldout, retractable bar feature alone enables pull-ups and an array of bodyweight extension exercises to add immediate dimension to your training regimen.
FOLD-OUT bar
CHIN - UP
The WallBars foldout bar is easily pulled out and clicked securely into place to enable pull-ups, chin-ups and other bodyweight, suspension training exercises.
Rungs
CHOOSE YOUR BAR
Different bars for different needs: the NOHRD WallBars are available with either 10 or 14 bars resulting in spacing of either 10 cm or 18cm between rungs. The 14-bar Wallbars provide greater choice of grip-heights (also for fastening accessory equipment), extending your range of exercises.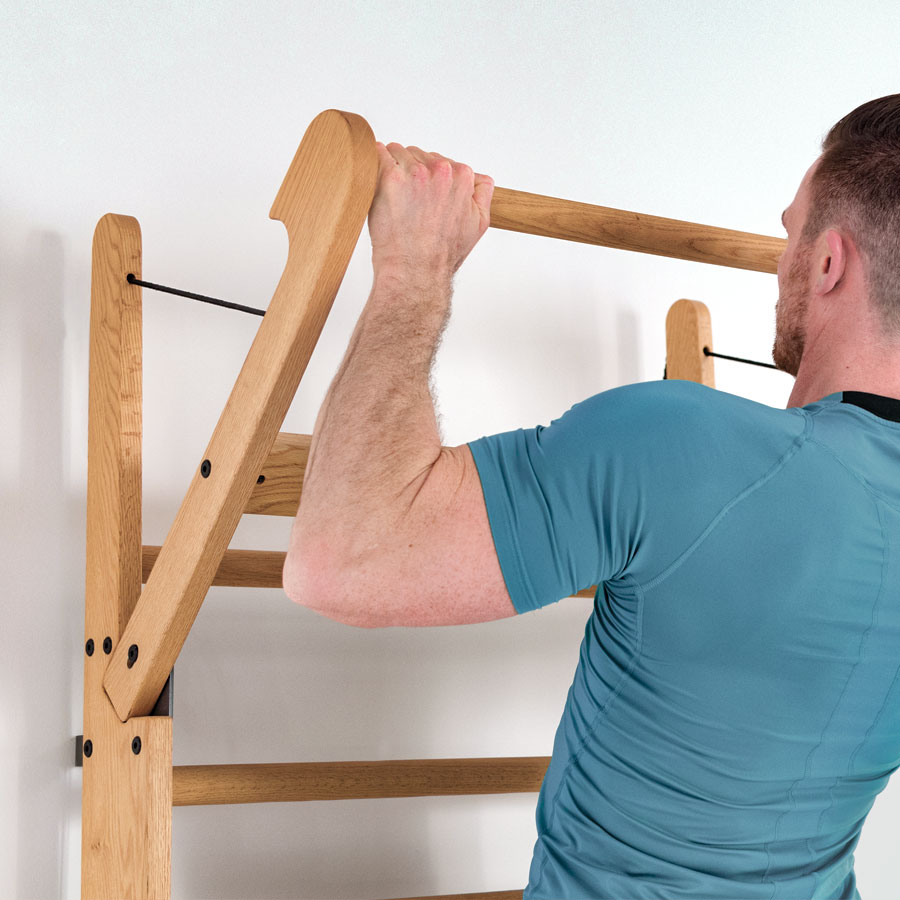 Built-in
Safe & secure
The WallBars are built from solid wood, an integrated safety cord and durable wall fixtures. Rigorous testing has been done to ensure safe use in a full commercial gym environment.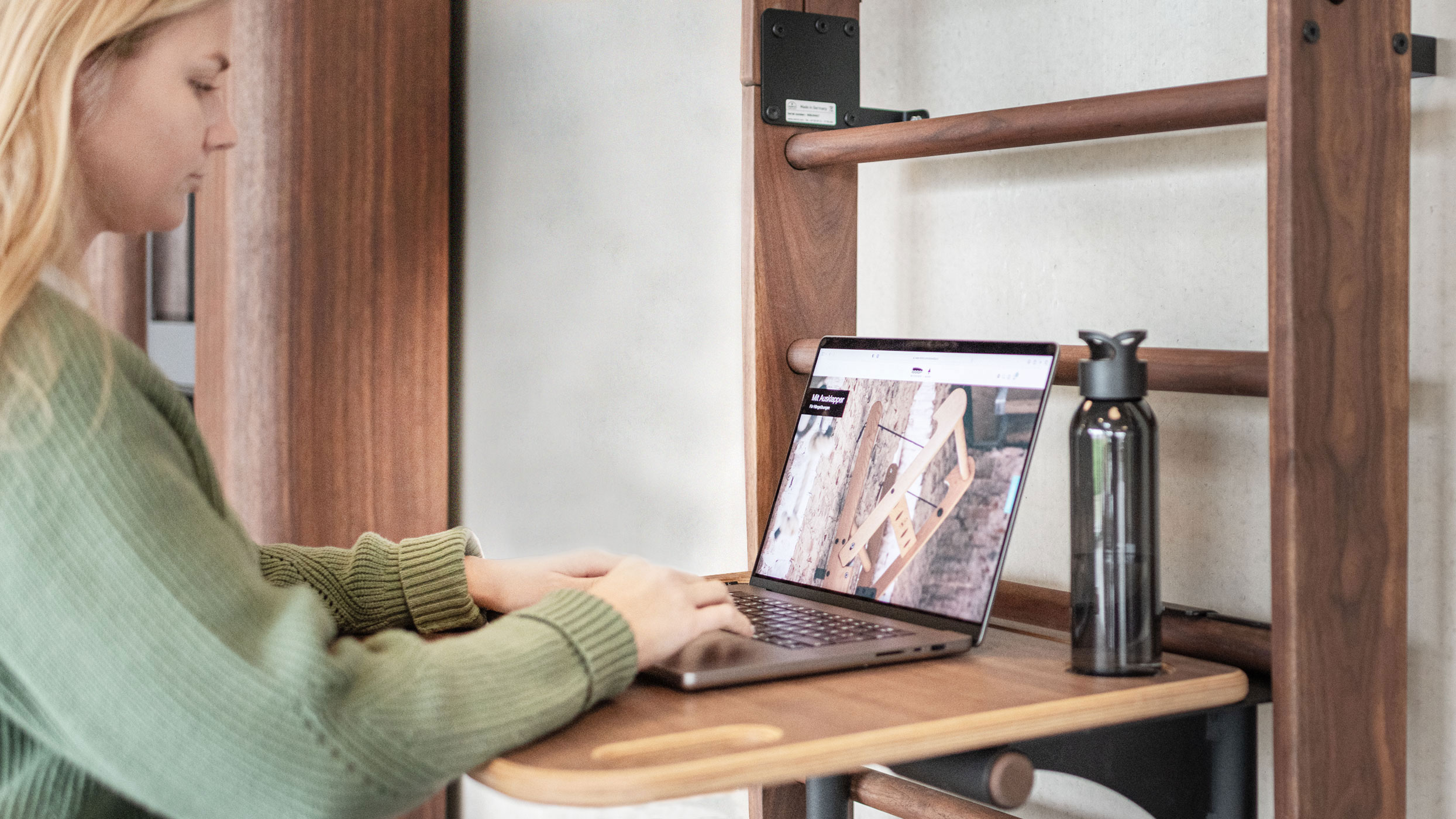 the ADVANTAGE OVERVIEW
It's in the details
THE ACCESSORIES
Add more to your WallBars
Upgrade your WallBars workouts with our specially designed accessories which are hung and stored directly onto the bars for space saving solutions.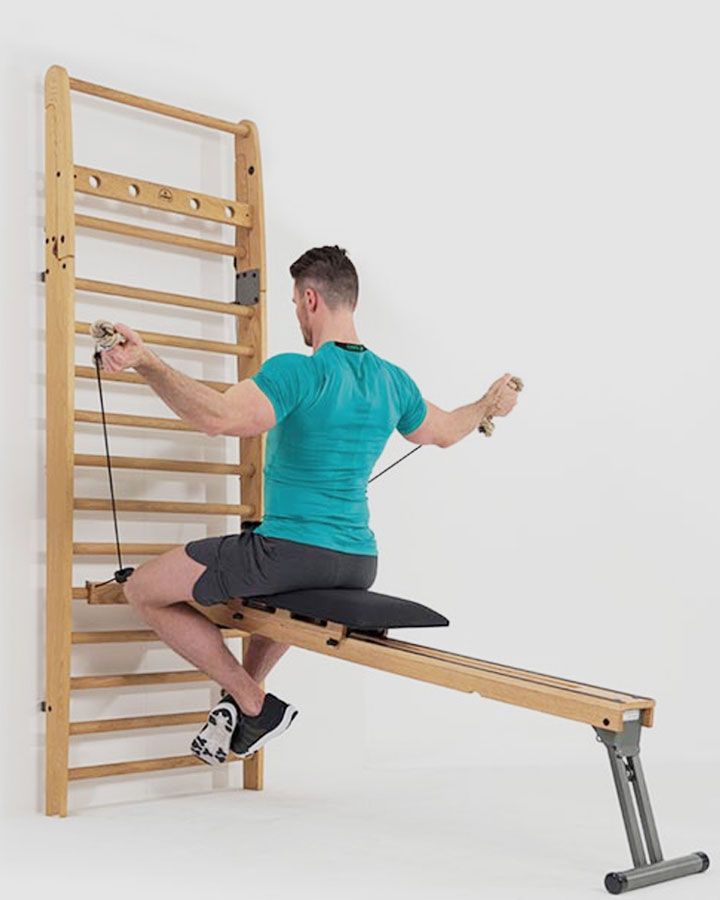 THE ALLROUNDER
COMBITRAINER
The CombiTrainer combines a sliding flat bench with a cable and pulley system, delivering a dynamic and engaging training experience. By pulling the rope handles attached to the cables, the flat bench smoothly moves, allowing users to perform a variety of movements that work against their body weight, stimulating muscle fatigue and promoting muscle development.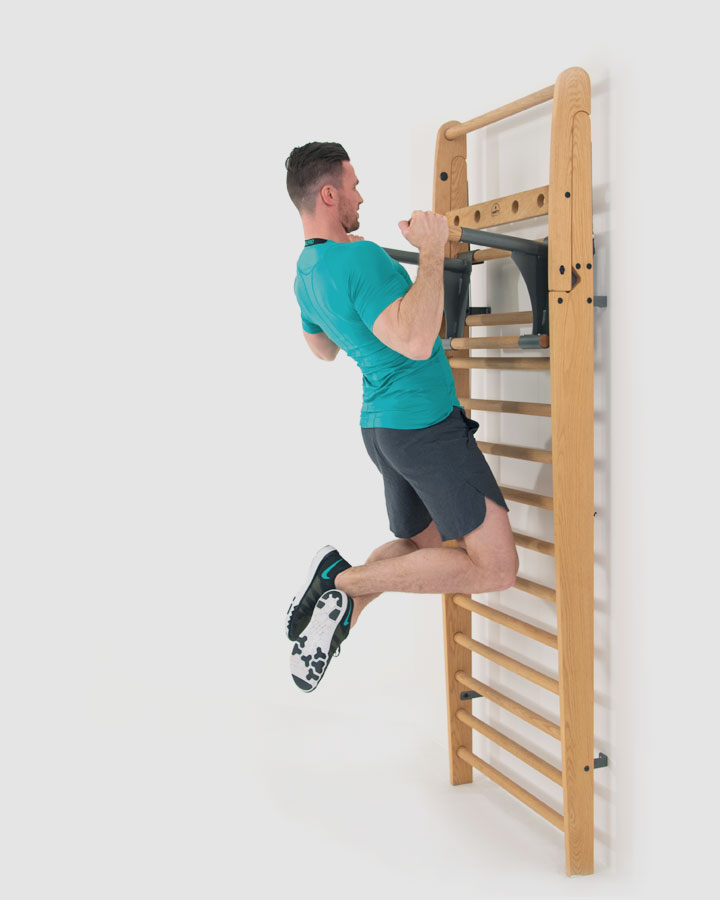 2-in-1
MULTI-ADAPTER
1 unit – 2 functions: Simply turn the MultiAdapter upside down and hang onto a bar. Use as triceps dip support (crutch, prop) or as a horizontal bar.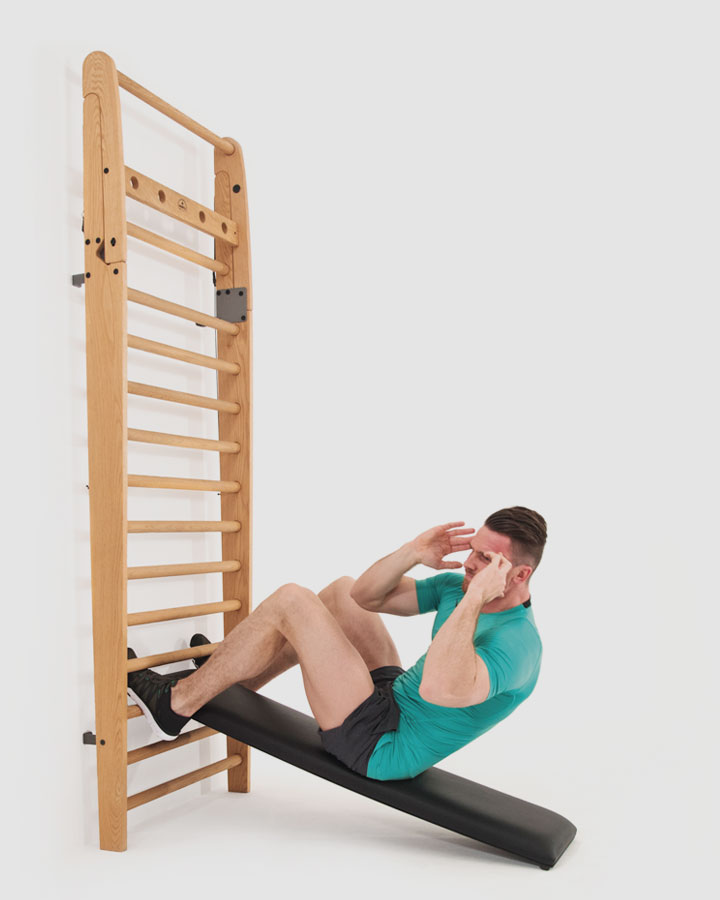 LEATHER
INCLINE BENCH
Clips securely onto the WallBars to enable a range of incline bench exercises. When not in use, the bench is stored vertically on the WallBars and can be used as a back support for further exercises.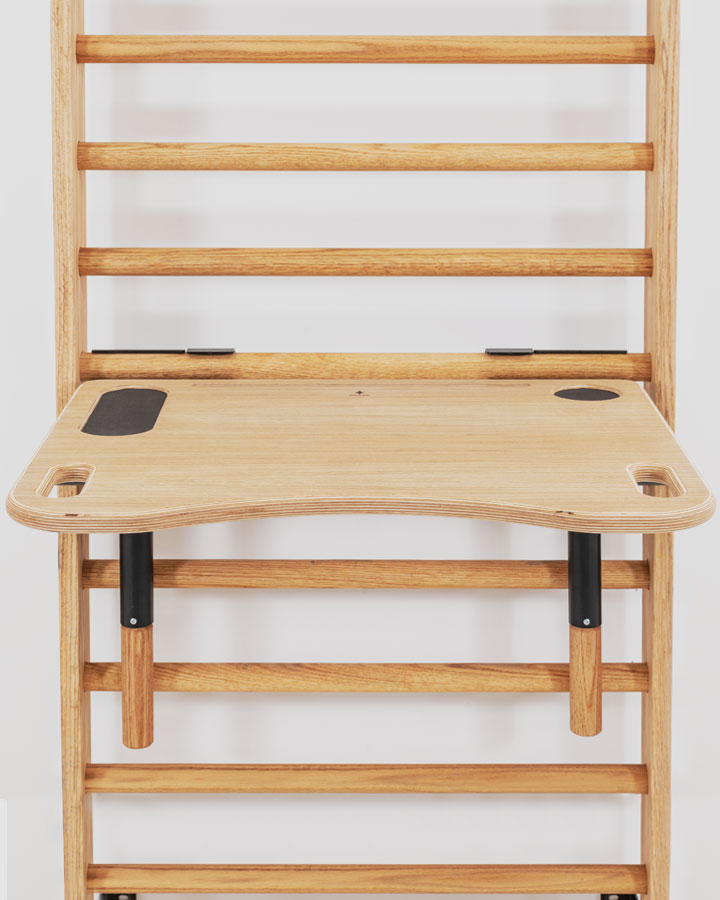 WORK
WALLBARS DESK
Our newest WallBars accessory: only for use in combination with the Multi-Adapter. Clips directly onto the bars, allowing for workspace, both standing and sitting. Made of multiplex and laminated solid wood, the WallBars Desk is a beautifully crafted, functional add-on to this wall unit.
THE WOOD WE USE
Our Selection