STACKED FOR SUCCESS
Excellence & beauty in every plate
We've taken a gym essential, the weight plate, and transformed it into a stunning piece of functional art. Inspired by the simplicity, beautiful design, and functionality of Olympic barbells, we've made them even better – more compact and versatile.
WATERROWER | NOHRD
Solid wood finish
Sculpt in style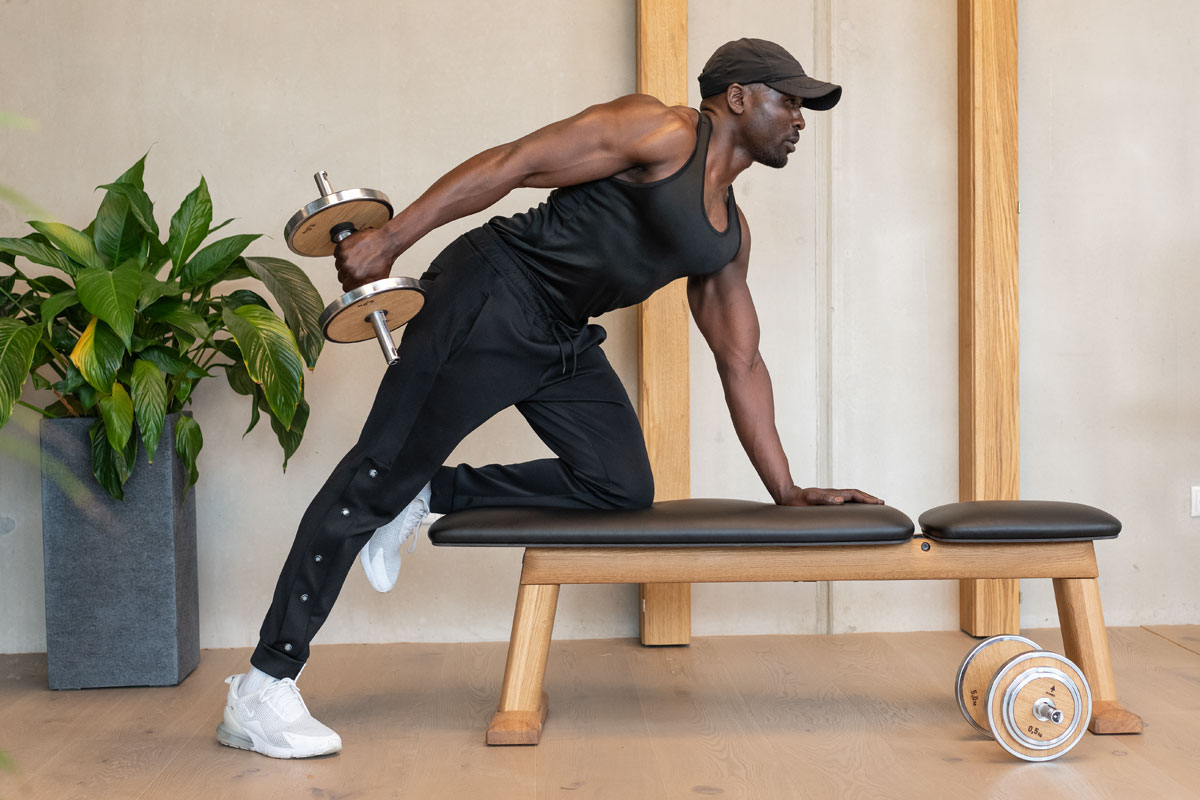 WEIGHTLIFTING
Weightlifting with barbells is one of the most rewarding and efficient ways to train. A barbells and weight plates session will engage targeted muscles and recruit stabilizers, making your workouts highly effective. Implementing long barbell lifting into your regimen can prove exceptional for compound movements - such as squats and deadlifts – intensifying your workout while you work to stabilize the bar.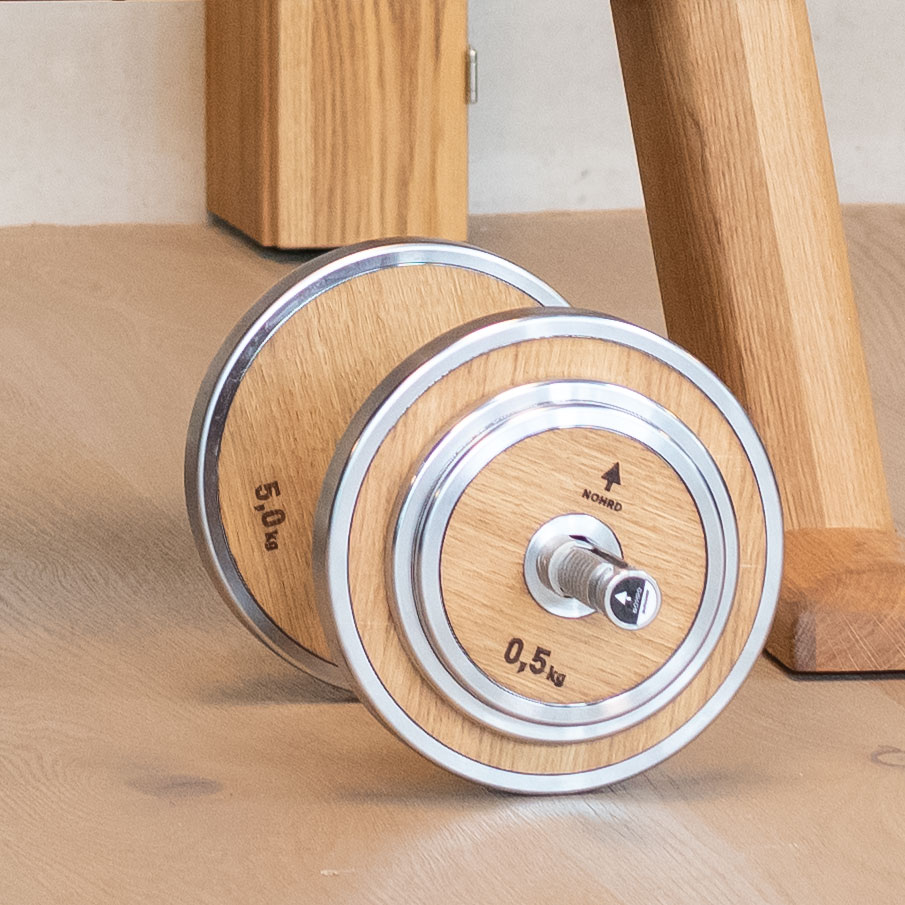 The plates
Natural wood finish
In our mission to blend form and function for design beauty, our weight plates feature a natural wood center finish, crafted with real wood veneer. These plates are not only stunning to look at but also have a functional advantage: the wood veneer aids as a buffer to eliminate the clanking of metal when you mount or use the plates, enancing your overall experience while training.
Gungnir of NORWAY
THE PATENTED SYSTEM
In collaboration with Gungnir of Norway, we are proud to introduce their patented SlideLock™-System to our fitness equipment. This innovative technology is designed to secure weights in place by an intuitive slide function that simplifies weight adjustments, allowing you to focus on your training goals in a hassle-free workout experience.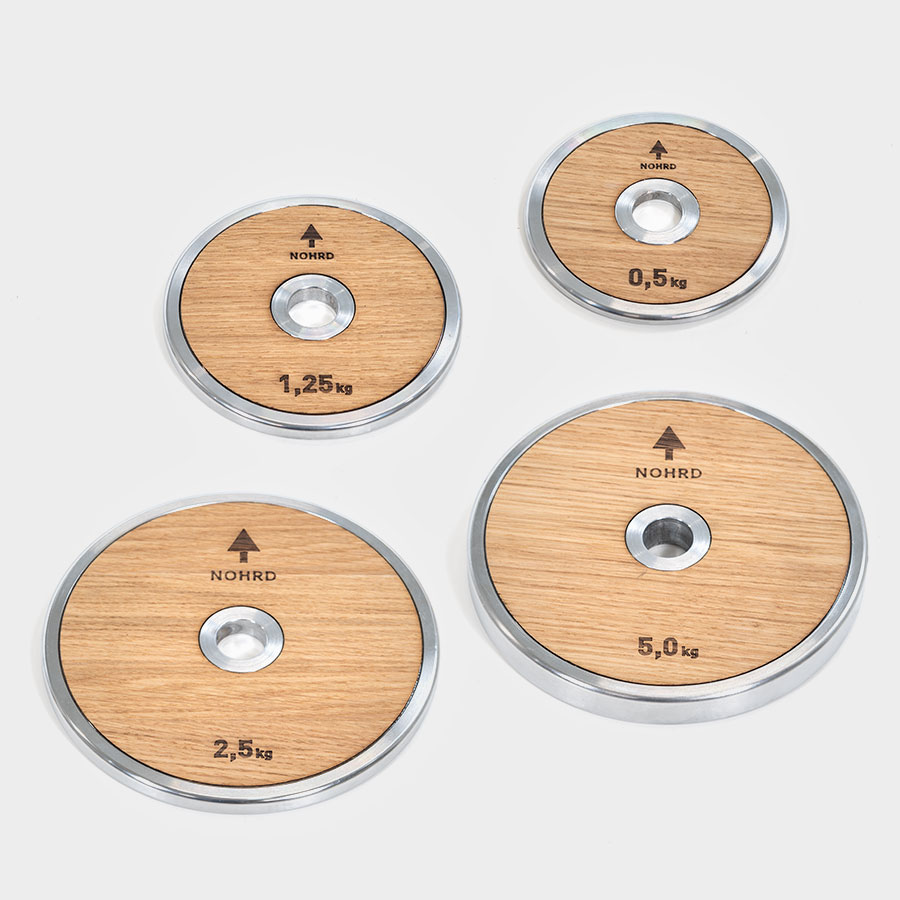 PLATES SPECS
The weights
Our selection of weight plates, ranging from 0.5 kg, to 1.25 kg, 2.5 kg and 5 kg allows you to customize your workout intensity with precision. No matter your weightlifting goals, this diverse selection ensures you have the flexibility and control needed to reach them effectively and efficiently. The weight plates' center hole measures 25mm in diameter for easy barbell placement.
Storage
The Tower
WeightPlates Tower is designed in a harmonious blend of solid wood, powder-coated steel, and brushed stainless steel – a statement piece for your fitness space. The Tower accommodates individual weight plates and fully loaded barbells, keeping your gym area organized. Your long barbell bars (Pumpers) are stored at the back, in an upright position.
THE WOOD WE USE
Our Selection